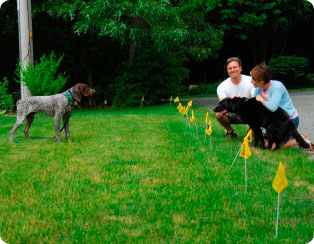 The K-9 Electronic Dog Containment Fence System is a method of pet containment that keeps your dog safely contained within an area you designate without the need for any physical barriers.
An electronic dog containment system is made up of three parts: the transmitter, a hidden wire that carries and broadcasts the radio signal, and the receiver electric collar. Your dog wears the electric collar which receives the radio signal from the underground, containment fence wire that goes around your yard. When your dog approaches the underground fence, the signal is picked up by the electronic collar and a high pitched warning tone is heard by the dog.
In addition to this audible signal, flags are positioned in the containment fence area to provide visual cues. If the dog continues in the direction of the hidden, underground wire, AFTER hearing the warning tone, the dog will receive a mildly unpleasant shock (similar to the sensation you feel touching a metal door after walking on the carpet).
Through Incremental Distraction Training and the reminder cues of the flags and audible warning tone, the dog learns to avoid the designated area no matter what is on the other side of the containment area. The key defining factor in the success of an electronic dog containment fence system is professional training.
Keeping your dog safely in your yard with the K-9, safe pet containment system ensures that your dog stays safe so your pet will not be hurt by cars, get lost or worse. In addition, you can limit your dog's roaming parameters to ensure that beautiful garden beds or any other areas you decide are "off-limits" are left untouched.
You can designate where in your yard your safe dog is free to roam. Our goal is to teach each pet to stay safely within their boundaries, thus delivering peace of mind to our family of clients.
Installation of the K-9 Underground Dog Fence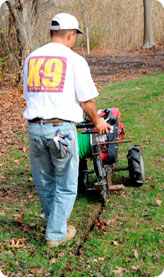 A safely contained dog begins with with proper installation of your hidden, underground dog fencing. Your K-9 Electronic Dog Fence consultant will walk the yard with you and go over exactly where you want your dog to be able to safely play and roam, and those areas you wish your dog to stay out of (flower beds, mulch, pool, etc.). We'll mark the yard so you can see for yourself your dog's "safe" areas and his "no go" areas.
When the underground dog fence installer arrives he'll go over the containment area with you again, showing you where the dog's boundaries will be, where the control panel will be installed and the location of the hidden, underground wire.
We use heavy duty wire to ensure proper conductivity and system functionality no matter the weather. All of our underground fencing systems include – at no additional charge – a lifetime warranty on the hidden, underground wire against failure as well as a lifetime warranty on all electronic components.
New lawn? No worries. We pride ourselves on low impact installation. At a recent pet containment installation a client asked when we were going to install the wire in the ground. When we told her we had already installed the wire she was amazed that we were able to do so without any meaningful disruption of the yard!
Outdoor Options – If desired, we can create 'no go' zones (areas you want to keep your dog out of) around garden beds, children's play areas, pools, and ponds.
Indoor Pet Containment Installation
If you wish to keep your dog out of indoor areas such as a garbage can, a bed, a specific piece of furniture or a baby's room, we can do that as well. In most cases we are able to do so with a completely wireless indoor pet containment fence system that's fully compatible with the outdoor, underground dog fence. We'll be happy to go over all the alternatives.