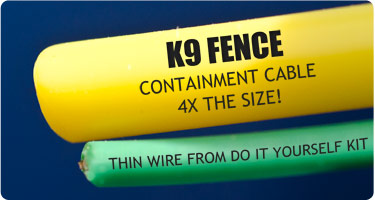 The two most important 'parts' of and Electric Dog Fence are the perimeter cable and the proper training. Do it yourself (DIY) kits may come with the parts, but are they really up to the job of providing long term safety for your dog and peace of mind for you?
Dog Fence Perimeter Cable
A picture is worth a thousand words. Check out the the picture to the left, it shows the difference; The Contain My Dog Cable vs the kit wire. With Contain My Dog your containment cable is Guaranteed for life. Since Its no fun to try and locate or find a break or cut in the perimeter wire in the middle of winter isn't it comforting to know that even if you prefer to DIY you can still have Contain My Dog install the critical component.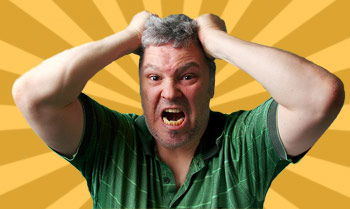 Do it yourself?
Some jobs are right for DIY, others jobs are meant for professionals. With Contain My Dog your job is installed right from the start, and when you have Contain My Dog install your Electric Dog Fence the system is warrantied for life! You'll never hear "dear, will you find the fix the dog fence"!
Still Interested In Doing It Yourself?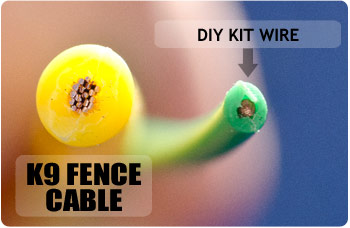 If you're insistent on being a DIY guy then you may want to consider Contain My Dog for professional cable installation. You may be able to replace a transmitter or a containment collar fairly easily. Trying to find a broken wire or loose connection in the wet, frozen winter is a headache to say the least and puts your dogs safety in jeopardy. When Contain My Dog installs our super heavy duty direct burial Cable (16/52) your perimeter cable is Guaranteed for a lifetime against failure.
Contain My Dog Installs we install the best:Professional 16/52mil Cable.
Cable Installation Pricing
| | |
| --- | --- |
| Install up to 300′ (perimeter wire only) | $399 |
| 301-500′ | $499 |
| 501-699′ | $ 599 |
| 700-899 | $ 699 |
Twist pair wire & Install ( brings wire from transmitter to perimeter cable): up to 40′ $69 each add'l foot $1.50 Driveway Cutting and sealing ea $49 Walkway Crossing cutting and sealing (up to 3′) ea. $29